platimacables@gmail.com

+(91)-09953150229


Home
»
Our Products
» Solar Power Cable
Solar Power Cable
Platima has been at the forefront of India's wire and cable industry for the last 15 years. Solar photovoltaics is now,after hydro and wind power, the third most important renewable energy source in items of globally installed capacity. This results in the great demand for 'SOLAR CABLE'. Solar cable is the interconnection cable used in photovoltaic power generation. A solar cable interconnects solar panels and other electrical components in the photovoltaic system. Matching step with the environment friendly shift the Solar Cable has been made which performs highest standards of application in its diverse usage.
Electrical Features
Rated Voltage: 0.6/1 kV AC .
Rated DC Voltage: 1.5 kV.
Maximum Permitted DC Voltage: 1.8 kV (conductor / conductor, non earthed system, circuit not under load).
Maximum Permitted AC Voltage: 0.7/1.2 kV .
Working Voltage: DC 1000 V
Insulation Resistance: 1000 MW-km.
Spark Test: 6000 Vac (8400 Vdc).
Voltage Withstand: 6500 V as per EN50395 for 5 min.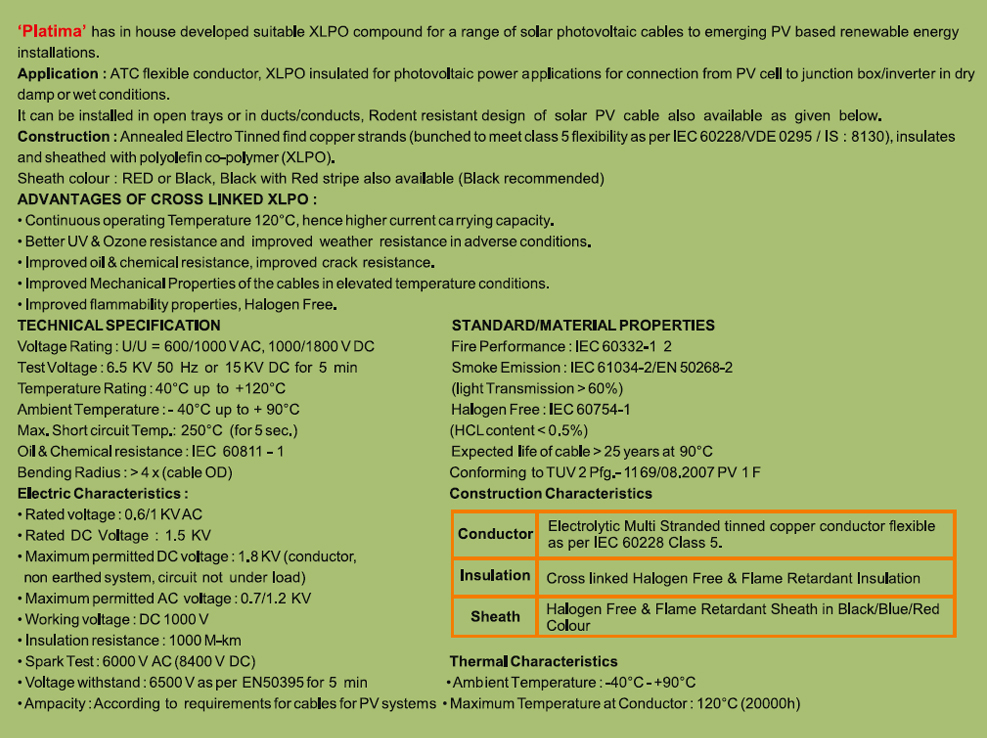 Solar DC Cables As per Standard EN 50618 are Also Available "Platima" Irradiated ATC Flexible Conductor, XLPO Insulated, LSZH Sheathed Solar Cable